A cookie is a text file stored on your computer's hard drive to identify you, especially to keep your user's session open when you navigate from one page to another on the same site. If cookies are not enabled on your browser, you may have problems connecting to certain sites.
Please follow the instructions below to enable cookies in Safari
Remarque : Ces instructions ne concerne que les versions 5 et suivantes de Safari. Si vous avez une version antérieure, nous vous recommandons d'installer la dernière version.
1Dans la fenêtre du navigateur Safari, sélectionnez le menu déroulant Safari, puis choisissez Préférences.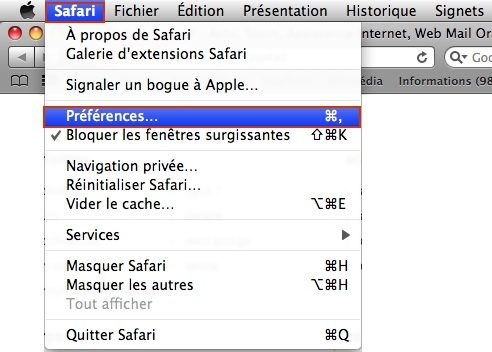 2Dans la fenêtre Préférence, cliquez sur l'icône Sécurité
3Dans la section Accepter les cookies, cliquez sur le bouton Provenant seulement des sites que je visite.
3Dans la section "Confidentialité", cliquez sur le bouton Paramètres de contenu.
4Vous pouvez fermer la fenêtre. Votre navigateur est maintenant configuré pour accepter les cookies des sites internet que vous visitez.