A cookie is a text file stored on your computer's hard drive to identify you, especially to keep your user's session open when you navigate from one page to another on the same site. If cookies are not enabled on your browser, you may have problems connecting to certain sites.
Please follow the instructions below to enable cookies in Microsoft Edge
Si vous cherchez les instructions pour Internet Explorer, c'est par ici.
1 Dans la fenêtre de votre navigateur Microsoft Edge, cliquez sur le menu (3 petits points à l'horizontal) 
situé en haut à droite du navigateur.
2 Cliquez sur Paramères, en bas du menu.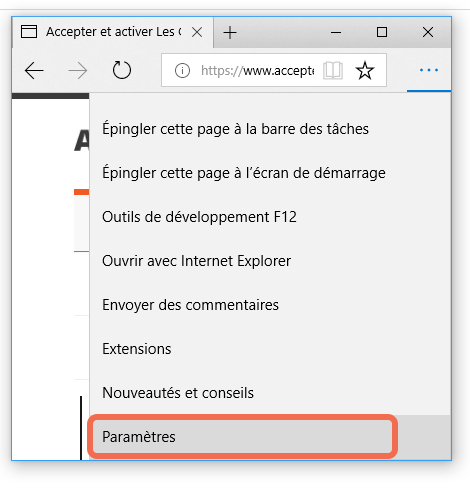 3Dans ce nouvel onglet, sélectionnez Afficher les paramètres avancés.
4Une fois dans l'onglet Paramètres avancés, cliquez sur le champ intitulé "Cookies" et choisissez "Ne pas bloquer les cookies".
5Vous pouvez fermer ce menu, les cookies sont désormais activés sur Microsoft Edge.