A cookie is a text file stored on your computer's hard drive to identify you, especially to keep your user's session open when you navigate from one page to another on the same site. If cookies are not enabled on your browser, you may have problems connecting to certain sites.
Please follow the instructions below to enable cookies in Chrome
Remarque : the latest version ..
1In the Chrome browser window, on the right side of the toolbar, click the 3 small vertical dots button
or, for versions prior to 2016, a small wrench
. In the drop-down menu, select Settings
2At the very bottom of the Settings page, click on Advanced to display the advanced settings.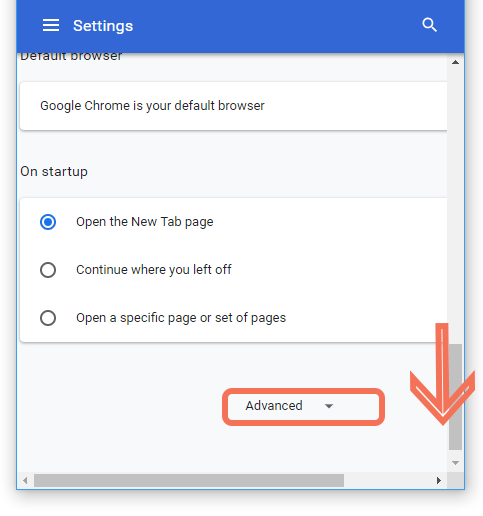 3Continue scrolling down the page and in the Privacy & Security section, click the Content Settings menu
4In the "Content Settings" section, click the Allow sites to save and read cookie data option:
4Finally in the "Cookies" section, toggle the switch of the first option (it might be showing as blocked) to make sure Allow sites to save and read cookie data (recommended) is on (switch will be in blue color):
5You can close the tab. Your browser is now configured to accept cookies from the websites you visit.